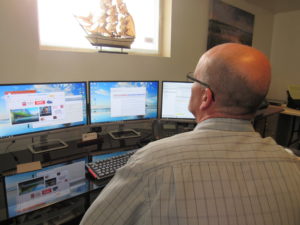 Some things are just better left to experienced professionals. Like when an ELD is recording a driver's HoS using the vehicles diagnostics system through an ECM to measure Km/h, distance and other things, it can get kind of confusing. That's the idea behind Compliancy Plus, at least. The company specializes in making sure truck drivers are Electronic Log Device (ELD) compliant. But what's that all mean?
"We take the hassle out of everything to do with an ELD," says company founder Grant Conrad. "We offer pre-purchase and post-sale consultation, implementation that includes installation and company training, and of course our administration that provides monitoring and maintenance of company files and data from the ELD."
An ELD is a device that sits with the driver in their truck. It monitors everything speed and distance and everything in between. However, a driver has to sign into it, otherwise, it's an event known as a 'ghost driver', which can mean a hefty fine for the employer.
"Road safety is what ELD compliance is all about," explains Grant.
For him, it's a bit more personal.
He's worked in the trucking industry for close to 18 years now. Having worked in driver services and development, ELD administration and as chairman of the health and safety board, he really has seen it all. And he uses that expertise every day at Compliancy Plus. His company, that now employs 5 people, is an outsourced alternative to a transport carriers in-house ELD administrator. They provide full administrative services for the positon, 24/7.
It's an on-call job. But for Grant, he wouldn't have it any other way.
"I have always been compliance minded when it came to driving a commercial vehicle. Keeping family's safe on the road would have to be the greatest part of what inspires me,"
he explains. "I do it for every car that passes with that little boy in the back seat looking up and signaling for you to pull your air horn. I do it for every smashed-up rig I've seen in the past 17 years, where the driver is never going to get home."
It not just about safety either. Soon, it's going to be federal law.
"As of December of this year, an ELD are required to be in the cab of all commercial vehicles that are operated by drivers that are required now to log on paper their records of duty status (RODS) when entering the United States," Grant explains.
That's going to be a lot of ELD machines. It's also going to be a lot of headaches, but Grant doesn't mind. It's even in the name.
"The 'plus' part of the name is meant to indicate that we offer more than just Hours of Services compliance, for example we offer consulting, implementation (installation, training, etc.), and full ELD administration."
In many ways, Compliancy Plus can be described as a headache relief.