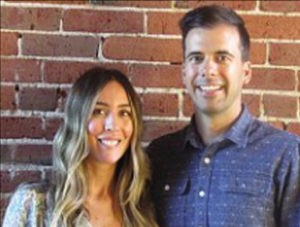 There are companies that take years to figure out what their defining message, their 'voice', their brand, truly is.Morgan KotsovosIS her brand – happy, authentic, purposeful, and uncomplicated. She and her husband Mark launched their company, Cactus Rose, to share 'simple and real' with the world.
"Ethically made clothing for your free spirited little people … designed in Canada … a shared love between parent and child."
Morgan and Mark knew nothing about designing a children's fashion line. But they wanted to share a message they didn't see often enough – that a simple life connecting to people in a meaningful way matters.
They wanted to share that philosophy with their children.
Internet research and making cold calls was gruelling. Eventually one call amounted to more than a "can't help you"dead end and led them to a fashion incubator. The cold calls continued but were now more targeted. Eventually, they connected with a manufacturer that fit their bill – quality fabric, ethically and sustainably made in Canada.
Morgan is the designer. She handpicks the fabrics, selects colours, font, style, and creates the expressions for their children's line of hippie t's, free bird shorts, the tiny dancer skirt, part time hippie onesies and harem pants. Mark is the illustrator. His art adorns Morgan's designs and to know this couple, is to know they wouldn't have it any other way than to support each other and deliver this message of love, joy, and simplicity together.
Cactus Rose produces two lines per year and other than the pastel blush skirt, all coordinates are unisex. They are proud to be a part of the slow fashion movement: "designing, producing,  consuming, and living better… we have a different approach in which designers, buyers, retailers and consumers are more aware of the impacts of products on workers, communities and ecosystems." (K. Fletcher)
"We feel less is more – make less, make it better, make something that's special and meaningful."
Mark and Morgan were referred to Trenval where they learned about Futurpreneur – a program for youth 18 – 34 years old looking for capital, mentorship, and guidance through the start up process. "Its intimating starting your own business and wondering if the clientele will be as excited about your idea as you are.
Trenval was able to reassure us and offer a wealth of knowledge through the whole experience."
They sell out at pop-up markets and through www.cactusrose.ca. "We feel so humbled and grateful for all the community support." Morgan's mobile store fits their brand – wood table, cowhide rug, twinkle lights, custom racks – she weaves her spirit and light into every seam of Cactus Rose.
Connect on Facebook. Their inspiring Monday Mantra's, their Little Cacti Tuesdays are all intended to put a smile on your face. Email for details on upcoming markets