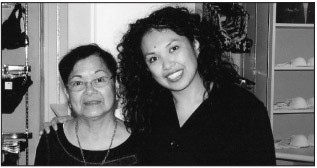 It's uptown meets downtown for Leticia Siasat's five year business, La Maison D'Eva. The upscale boutique is owned by Siasat and her mother Eva- the inspiration for the name – and is situated in the heart of downtown Belleville.
A television show featuring women's lingerie and the varying sizes and comfort was the inspiration for the type of luxury business that Leticia wanted to run.
She travelled to Toronto, to check out the lingerie boutique market and discovered the vast array of merchandise that was available. She now had product to add to her vision.
"Working previously in Belleville's downtown core in the service and hospitality industry provided experience working with the public and inspired me to
believe that a luxury industry exists in a small town," said Siasat. "A lot of people would rather shop locally and get good, quality items in this area than go to the
bigger cities."
This type of niche market business was hard to finance.
Trenval Business Development Corporation was instrumental in helping to get her business underway.
"It was a long road," said Siasat. "When you start a luxury business in a small town, to find backing for it is very tough. We started at the banks but were declined. Then I looked into Trenval."
She met with Trenval's loan officer and Investment Committee, and described the vision she had for the store.
Trenval supported the application based in part by her displayed passion, but more importantly, as a result of her well-prepared business plan.
La Maison D'Eva provides quality, design and extensive inventory, which includes over 150 bra sizes, setting her store apart from the large department stores. She carries lines from Great Britain, Germany and France. She recently introduced cupsized swimwear, that fit just as well as the bras. Siasat went to the best fitter in Ontario to learn proper fitting techniques. Her staff has also received this training – a personalized service that you don't get elsewhere.
"If you open a lingerie business and you don't know how to fit properly it won't work," said Siasat. "You won't get the repeat business. Different lines fit differently."
Siasat goes for top quality in everything that involves her business. Her storefront windows are professionally decorated by a window designer and changed monthly to enhance the downtown Belleville retail experience. This attention to customer service and merchandising resulted in La Maison D'Eva being awarded the "New Retail Sales Award" at the Business Achievement Awards in October 2008. The very next day, she opened her second location in Kingston. What great promotional timing !
Siasat noted that a recent Canada AM segment made reference to the "lingerie indicator". Economists use a "lingerie indicator" to forecast. ( An increase in sales of luxury lingerie indicates that the economy is on the way up). A positive lingerie indicator means that La Maison D'Eva's business will surely continue to grow.
She expects that her special event nights – especially the "men's night" shopping event – will keep this indicator moving in the right direction.
"Thanks to this wonderful community, my excellent staff , and the support of Trenval, I know that my company will continue to grow", says Siasat. " This is
what makes the downtown survive."
Contact info:
www.lamaisondeva.ca
lamaisondeva@bellnet.ca
Phone: 613-771-0333