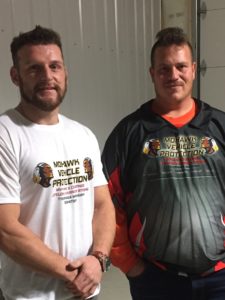 Thomas and Ogwari Brant, cousins from a tight-knit family,sourced out a game changing product and Trenval was on-board to commit the dollars needed to put their plan into motion. The opportunities for growth seem as limitless as their energy levels as they quite literally build their business from the ground up.
Construction began two months ago on their 2400 square foot facility at 5965 Old Hwy 2 in Shannonville. The cousins put in long days over many months constructing the home of their new business, Mohawk Vehicle Protection. The workmanship is impeccable.
The attention to detail is impressive. Its this drive for excellence that underscores everything they do.
MVP linings and coatings will provide cost effective spray-on truck bedliner protection that's second to none. They investigated products and techniques before committing to a blend that delivers unsurpassed durability and toughness eliminating bubbles and flaking.
Thomas and Ogwari boast an unconditional, fully transferable lifetime warranty.
There will be 4 fully trained and certified technicians working with clients to guarantee their expectations are exceeded. Trucks are expensive and MVP bedliners protect that investment with a bond that lasts.
No cracking, peeling, rust, leaks, or corrosion. The spray-on liners are stain resistant, sound reducing, impact absorbing and environmentally friendly. Colours range from standard black, light grey to dark grey to complete custom colour mixing. The UV stabilizers mean no fading, so colour stays rich and eye catching. Match the truck, the company logo, stand out or blend in. MVP can produce textured finishes from super rough to orange peel, smooth and glossy reaching from rubber soft to super hard – its all about the needs of the customer.
The durability of their custom MVP branded clear coating means they work with truck owners, farmers, dump truck drivers and contractors needing their vehicles sprayed and coated pluscity vehicles, 1stresponder vehicles and more. The hard-wearing clear coating expands their offerings to beyond bedliners to include paint protection from rocks and other hazards.
Ogwari is a volunteer fire fighter and Thomas is a correction officer – they are proud to offer a discount to all 1st responders and military personnel.
MVP is also mobile with plans for future product development and business growth. "We put our blood and sweat into securing our families future through hard work and determination" says Ogwari and cites "providing additional employment opportunities within ourcommunity" as a plus in launching this family operated business.
Thomas and Ogwari researched local funding opportunities and felt "Trenval was truly behind the entrepreneurs that seek out their help".
Their customer-focused service plan is evidence this family operation wants their customers to feel right at home when they choose Mohawk Vehicle Protection.
Call 613 966-6878 to speak to an expert and book an appointment. You and your vehicle are in the hands of family at MVP.