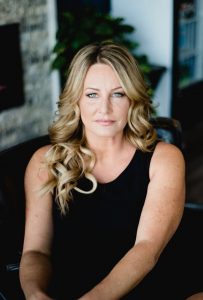 When does great customer care and service start? On the phone? At the doorstep? If you are Dianna Cairns, owner of Polish Salon & Spa, it starts during the construction phase.
"This area will be a quiet space so clients can relax and enjoy treatments" and "our rooms are soundproofed allowing clients, couples or friends privacy."
She worked with a designer on her new locations' half a million-dollar renovation and ensured the needs and wants of her clients were woven into every decision.
Be Bold, Be Sexy, Be Polished. And be prepared to be awestruck at the magnificent atmosphere Dianna is creating.
Polish is set to open next month in its newly built 4200 sq. ft. salon and spa at 199 Bell Boulevard in Belleville next to Planet Fitness. The ceilings will be high, signature walls curved, fireplaces glowing and with chandeliers casting soft lighting to guarantee a heavenly escape.
A licensed lounge will feature local wine and craft beer alongside the barista-manned coffee bar with latte & cappuccino. Boxed lunches, protein plates and fruit bowls will be available to order. Dianna has left no hot stone unturned creating a gathering place for friends,colleagues,couples, and family to enjoy time together prior to settling in for a professional spa service.
There will be exciting new surprises in the Polish shopping boutique alongside their extensive Redken and Dermalogica (skincare) lines. And the holiday gift packages will be on everyone's wish list.
The new Polish can accommodate up to 28 hair stylists with spacious rooms for relaxing during colour, foils, extensions, or deep conditioning. A private suite services bridal parties and groups. There are 6 treatment rooms including double occupancy, private showers and the spa and salon are fully accessible. Dianna is Treasurer for the Wheelchair of Hope Foundation so ensuring all feel welcome was a huge design must.
Facials, eyelash extensions, gel nails, mani / pedi's, French polish and hot stone, couples, and relaxation massage. Body treatments include thermal therapy and eucalyptus wraps, hair removal and a full line of spa products. MediSpa offers Botox, medi-laser, 3D skin rejuvenation, Titan skin tightening, laser vein removal and wedding day services for the entire party. Dianna's male clientele continue to grow as men recognize the need to take care of themselves – inside and out.
Trenval Business Development's Investment Advisor Amber Darling loves Dianna's drive to create an atmosphere like no other in the region. And in return,
"Amber changed my life" is how Dianna describes her experience working through the lending process together. "Trenval should have been my first choice."
She has 20 full time staff and is currently hiring for all positions. Visit www.polishsalonspa.ca
And unbelievably, despite the new digs, the opulent setting, expanded product lines and services, Dianna's clients will enjoy the same affordable pricing she has always offered. The doors open in a month and Dianna will be waiting to wow you.