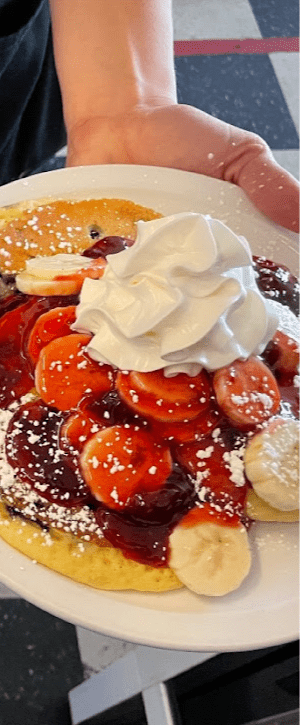 Serving up amazing breakfasts – that's a fact!
Small communities are built on neighbourhood businesses that become necessary additions to your life. The favourite clothing store. The barber shop. They are the businesses that fit you like a glove: the relaxed setting, the warm greeting and the 'realness' of the people.
In Quinte West, on Hamilton Road at the RCAF roundabout, is Reds, the local spot that combines family, friends and fabulous food all under one roof.
"There will always be the big box in the corner of our menu with the Red's Breakfast Special for $6.99" says Dorothy Maine, who owns and operates Reds with her cousin, Tammy Longinotti. "You should always be able to get a full breakfast with a cup of coffee for well under $10".
She's modest to say 'full breakfast'; she should say 'great breakfast'. At 7:20am on a Friday morning, Red's is packed. It's like that most mornings, proof positive that doubling seating from their previous location (30 to 60) was a good decision. Monday through Friday they are open 6am to 2pm and on the weekend the doors open at 7am. "The Big Red", "The Super Seven", "Little Red" or the Red's Special kick start a day like only a home styled breakfast can. Classic Eggs Benny is a guest fave. Corned Beef Hash. Red's Eggwich. Breakfast Poutine. All homemade mouth-waterers. Omelette choices are plenty from egg white veggie to the meat lover. Red's Banana Pecan French Toast is a delicacy. Pancakes stacked 3 high are topped with fruit or nuts or chocolate chips – where there's a whisk, there's a way!
Fresh salads, hearty homemade soups and clubhouse sandwiches mix it up. Order classic poutine or go wild and order the pulled pork or hot hamburger poutine. Peameal melts, BLTs, westerns, chicken on a bun, burgers, burgers, burgers – no one goes hungry at Reds.
The only challenge? What to order when its all so good!
They have 10 staff to keep up with the pace. Tables, counter seating, take out or pick up –Red's is booming. *Written before the latest iteration of covid but sure to be valid again when restrictions are lifted.
They cater events, office meetings, and even recently supplied a take-out buffet breakfast for an entire wedding party. They host military personnel and offer a first responders discount.
Dorothy and Tammy cater to people and appreciate the overwhelming support of the community. "IT'S AMAZING" says Dorothy, her face lighting up at the opportunity to talk about the great customers they happily cook for.
Dorothy and Tammy have created a neighbourhood essential. "Trenval was the best way to expand our growing business. We found great support, workshops and mentoring. Without them, we wouldn't be where we are now".
The Board and Staff of Trenval congratulate Dorothy Maine and Tammy Longinotti and are proud to have been a part of this success story!