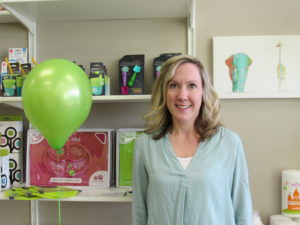 A seed grows. With enough care and attention, it can flourish into a lumbering tree. Renee Lucas of Belleville's Tree Trunk takes that philosophy to heart. To her, it's not just about selling children's clothes and products. It's about growing, helping and flourishing – from a tiny seed to a strong tree.
When Tree Trunk opened in October of 2016 at 222 Belle Boulevard in Reid's Dairy plaza, it was the culmination of a life-long dream for Renee.
"It has always been my dream to own and operate my own shop, providing local families with a relaxed and friendly boutique-style shopping environment," she says.
"We strive to make life easier for parents, and bring products that parents can trust will be safe and beneficial to their children and lifestyle."
Renee found the greatest inspiration for the shop after the birth of her first daughter. She found a need in the local area for high-quality baby and early-childhood products. Many of her own experiences are reflected in the patrons she sees at Tree Trunk.
"I'm so fortunate that I get to meet young families that have just found out they are pregnant, see their growth, joy and excitement throughout the pregnancy and observe their children as they grow," Renee says.
"To see how your products directly impact people's lives is a truly rewarding experience."
Tree Trunk hasn't been open very long, but the seed's been planted. Much like her clients, it's grown and succeeded. Renee likes to look back at the not-too-distant past and remember that.
"My first sale was actually to a mom, before I even opened. She wandered in as we were setting up and took the time to stay and chat about her family and daughter. She purchased a sippy cup," she says.
"She means a lot to me because this experience was exactly what I hope for with all of my customers, the personal conversation, the one-on-one help, the ability to advise on products and the positivity. She still comes in to the store; I have heard how her daughter has grown, from her health, to potty training to eating challenges to parenting. It's not just about the products, it's about the connection and experience."
Renee Lucas has created something special. The products are unique, the experience is friendly and the products are kid – and parent – friendly. It's no wonder Tree Trunk is growing healthy babies and happy parents.