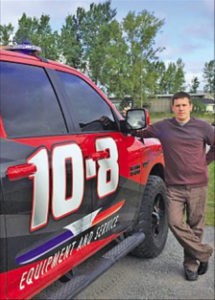 Notable Entrepreneur.com cites these 10 traits as must-haves checkmarks for success:
1. Determination
2. Not afraid to take risks
3. High level of confidence
4. Grasp on money management
5. Passionate about their business
6. Highly adaptable
7. Expert at networking
8. Craves learning
9. Skilled at sales and promotion
10. Understands failure is part of the game.
Ryan Laliberte owns Trident Truck and Trailer and its partner company 10-8 Equipment and Service and he has all the boxes checked.
When the Parks & Rec location at 160 N Murray Street in Trenton became available, Ryan jumped on it. He met with Amber Darling, Trenval Business Developments' Financial Advisor and she set the wheels in motion to have his plans for expansion financially supported. (Determined, not afraid to take risks, high level of confidence, grasp on money management – check check
check check).
Multiple bay doors allow easy access for heavy trucks, tractors, emergency and construction vehicles, trailers and more to enter for repair, service, or maintenance work. Two 310-T Truck and Coach Technicians plus an Apprentice are on duty.
Ryan carries parts & inventory so his repair bays are equipped for whatever rolls, tows or finds its way in for service. His team delivers expert workmanship.
One of Ryan's favourite quotes is "There are two ways to do something – right and again." Ryan chooses 'right' and his clientele that include municipalities, OPP, Fire, tow trucks, plows, owner
operators, and construction companies don't hesitate to utilize and recommend Trident and his mobile repair service.
"I've done brake jobs and oil changes right in a fire hall."
Ryan is a volunteer fire fighter himself and knows the community relies on emergency response vehicles and they in turn rely on Trident Group. He is connected with expert tradespeople that he calls on when repair challenges need creative problem-solving discussion– not unusual in his line of work. (Passionate, highly adaptable, expert networker – check check check).
10-8 Equipment and Service is the local leader in emergency and utility vehicle equipment supply and installation. As a Master Distributor for SoundOff Signal, 10-8 sells and custom installs innovative first responder and 'amber' industry gold star products. M-powered, resistant to yellowing, cracks, pits, and chips, these light kits/bars offer multi-coloured modules of LED's that can cast 360 degrees of intense scene lighting.
Ryan has customized a demo vehicle displaying his seamless, clean install of lights and sound. He is our local expert in what's available, what lasts, custom installations etc. (Craves learning, skilled at sales and promotion – check check).
Last on our success checklist – 'understands failure is part of the game'. Ryan has staff meeting weekly, has a longterm business plan with clear goals and objectives, volunteers in his
community, works closely with business development offices like Trenval Business Development and stays curious … failure may be part of the game, but Ryan is proving himself a skilled player (big check).
<a href="https://www.10-8eas.com">https://www.10-8eas.com</a>