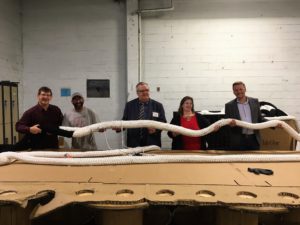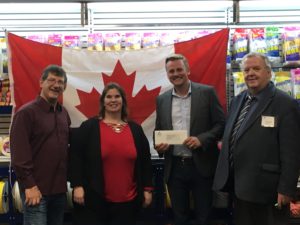 October 11, 2018 – Deseronto, ON
Canada Cordage Inc. is benefiting from an investment announced by Trenval Business Development Corporation and Mike Bossio, Member of Parliament for Hastings – Lennox and Addington.
MP Bossio and Trenval are pleased to provide support for product line expansions in the Deseronto facility and the creation of 5 full time jobs with an investment of $88,656 under the Eastern Ontario Development Program. Canada Cordage Inc. has received this funding over a period of 3 years under this program for expansion of rope and twine manufacturing lines. This enhancement will allow the company to be competitive in the commercial and industrial markets.
MP Mike Bossio, Mayor Norm Clark and Trenval's Amber Darling and Harry Todd toured the facility to see the new production equipment in action.
"The Government of Canada is committed to supporting rural businesses that will allow them to grow and expand into new markets. I am pleased to be on site for a tour of the Deseronto plant to witness how this investment has supported this local manufacturing business to scale-up, become competitive, contribute to the creation of jobs and greater rural sustainability in the region," said Mike Bossio, Member of Parliament for the Hastings-Lennox and Addington.
Canada Cordage Inc. purchased equipment from a sister US plant and moved them to Deseronto to increase production of industrial roping. Canada Cordage manufactures rope such as cotton, jute, nylon, twine and polypropylene products. "The EODP program has provided the necessary funds to allow us to continue to thrive in our small community. These machines will enhance our efficiency and increase our production capacity", said Steven Bruch of Canada Cordage.
"Canada Cordage is a great example that a manufacturing facility can exist, be competitive and expand into new markets while being located in a small community. Deseronto is fortunate to have Canada Cordage in the community employing local residents," comments Deseronto Mayor Norm Clark.
"Funding to support startups and expansion of our local businesses have had a significant impact on job creation across our region. Companies in the area are more innovative and competitive as a direct result of the EODP funding. Trenval is proud to support the over 80 businesses who have received funding through EODP with over $2 Million in the last five years", says Amber Darling, Executive Director, Trenval Business Development Corporation.
The Eastern Ontario Development Program (EODP) advances economic development in rural eastern Ontario. Through EODP, the Federal Economic Development Agency for Southern Ontario (FedDev Ontario) is collaborating with Community Futures Development Corporations (CFDCs) in eastern Ontario and the Eastern Ontario Community Futures Development Corporations Network Inc. (EOCFDC Network) to advance economic development by promoting the growth of new and existing businesses in rural communities.
Quick Facts
• Canada Cordage Inc. has been manufacturing and distributing rope in North America for over 160 years. Canada Cordage & Orion Ropeworks are North America's premier rope manufacturers, utilizing specialized manufacturing expertise developed since beginning in 1856. Each of our over 1,000 rope formulas have been tested and optimized. The company supplies industrial and retail products to various industries across the continent.
• Trenval Business Development Corporation is one of the 15 Community Futures Development Corporations (CFDCs) in eastern Ontario funded by the Eastern Ontario Development Program (EODP) through the Federal Economic Development Agency for Southern Ontario (FedDev Ontario). CFDCs deliver a wide variety of programs and services to support community economic development and small business growth. They employ local staff and are each governed by a volunteer board of directors, made up of local residents representing the community.
• The Eastern Ontario Development Program is a $48-million economic development initiative focused on addressing economic challenges in Eastern Ontario and taking advantage of innovative opportunities in the region. Resulting in long-term economic development investments and collaborative projects that will benefit eastern Ontario businesses and communities.
Associated Links
• Eastern Ontario Development Program
• Trenval
• Canada Cordage
Contacts
Amber Darling, Executive Director
Trenval Business Development Corporation
613-961-7999 Ext 225
adarling@trenval.ca