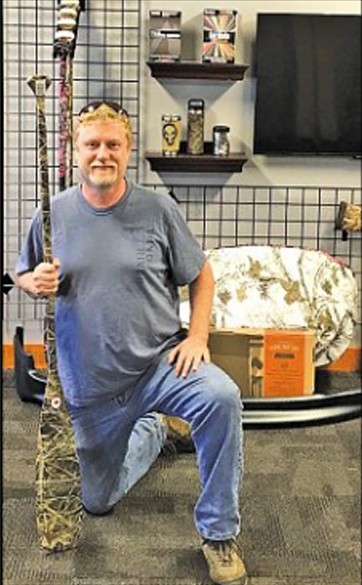 Business success is never the result of sheer luck. There's a certain grit – an unwavering resolution to seek out products or services that consumers want and then deliver them in a big way. A successful entrepreneur listens and learns, reacts to trends, stays ahead of the competition and some, like Bryan Cribbett, sprinkle in a little 'kool factor' too.
Bryan Cribbett's background in mechanical engineering, building trades and previous self-employment efforts are melding together to propel Kool Koatings to the forefront of the Canadian hydrographics industry.
Hydrographics (aka water transfer printing or dipping) is an incredible 3D process that allows any water submergible item to be customized with a fantastic design. All-terrain vehicles, golf carts, dashboards, helmets, bikes, automotive trim, sports accessories – plastic, metal, fibreglass, wood, ceramic – all dippable!
A water-soluble film with elaborate patterns (wood grain,camo, geometrical designs, metal finishes, natural scenes etc.) islaid on waterin a specialized tank and activated. The dippable item has been prepared and painted. The surface tension of the water allows the pattern to remain after the film has dissolved and with careful, knowledgeable precision, the item is rotated such that the ink pattern curves around each corner, groove, bend and crevice. The ink adheres and will not wash or scratch off. The proud owner now has a rifle, bike frame, thermos and in one case so far, a pair of shoes, unlike any other.
CBC News reported the BDC findings that 'the desire for customized goods' ranked in the top 5 trends shaping our future. "Consumers are looking to get exactly what they want and new technology makes it possible for them to buy it." www.cbc.ca/news/business
With accessto 500 film designs, Bryan fully delivers on the desire for custom or personalized items.
He just delivered a camouflage inspired line of paddles to eleven Sail Outdoor stores. Roam around the luxury JetSuiteX airlines website and you'll see Kool Koatings gorgeous wood grain finished chair trays that adorn the fleet (along with the marble finished sink in the jets bathroom).
Whether it's one hockey helmet, a full team of helmets or a company wanting to design a signature line of products to stand out in the crowd, Bryan welcomes the job. Walking around his Kool Koatings facility in Belleville and checking out the decorated bike pedals, wooden doors,coffee containers or duck calls, every guest exclaims the same thing "that's so kool!"
"We were incredibly impressed with Bryan's skills, uniqueness of product offering, ambition and innovative thinking. We are here to assist local start up and existing businesses with financing to bolster the local economy and cast attention on the region." says Amber Darling, Trenval's Business & Investment Advisor.
Find Bryan online at www.koolkoatings.com and call him to discuss 'getting dipped'.