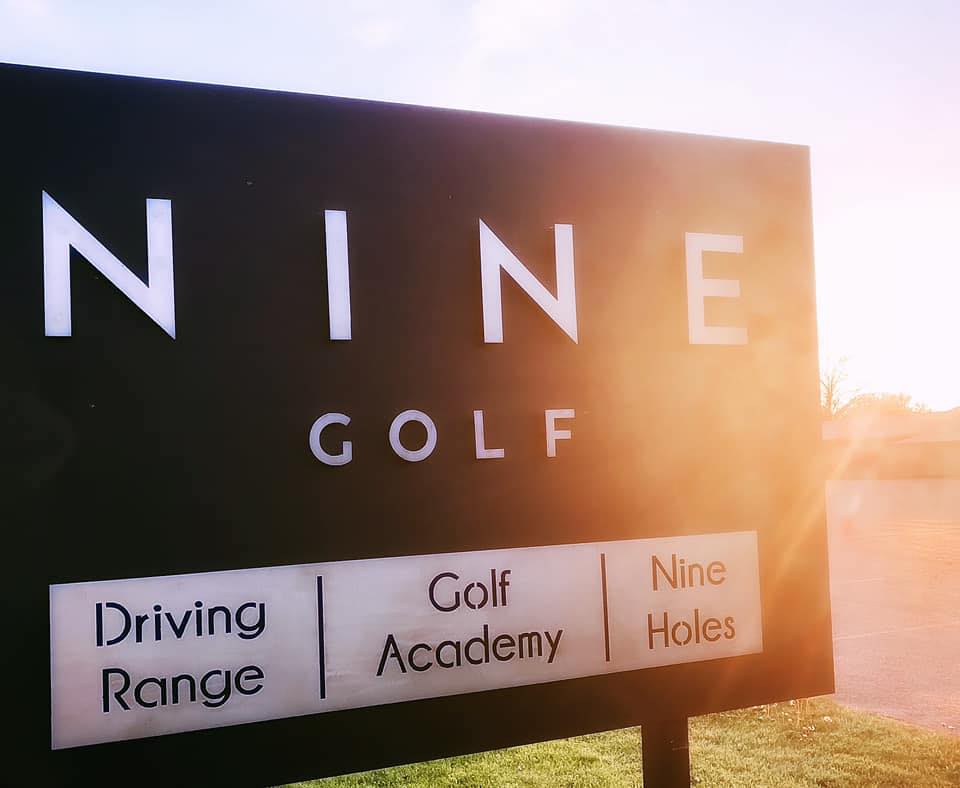 NINE Golf opened its doors and greens for its debut season in 2021 and saw an overwhelming amount of support from the Quinte region.
"The goal in the first season was to create some notoriety and to get things off the ground so to speak. That happened and then some," said Brandon McLean, co-owner of NINE Golf alongside friends Nick Enright and Colin Taugher.
With the support of Trenval Business Development Corporation, McLean, Enright and Taugher started the business and invested approximately $110,000 into renovations before opening.
Upgrades included new signage, electrical work, plumbing and a complete interior redesign with the addition of a new restaurant patio. The irrigation also needed to be upgraded and was done upon acquisition.
Located at 1915 Old Hwy 2, Nine Golf offers a 9-hole golf course, driving range, mini putt and golf academy as well as a newly renovated patio and restaurant.
Opening the business was a natural next step for McLean, who worked next-door at the Bay of Quinte Golf & Country Club for nearly 10 years.
"I think the greatest opportunity in the Bay of Quinte area is the people," said McLean. "Golf is about people entirely and about the overall experience. The Bay of Quinte region provides so many great families."
SUCCESSES
McLean estimates NINE Golf has done about three times more business than anticipated in its first season and believes it's only just the beginning.
Junior camps were "through the roof," with more than 225 youth involved in NINE Golf's organized junior golf camps. McLean also ran 'Chip and Sip' ladies golf nights, which he said were a great success.
"Nine quickly became a destination for kids and for ladies and because of that, the popularity grew really quickly," said McLean, who noted they also underestimated how popular the driving range was going to be.
"A lot of expected and unexpected positives this year I would say. Now we have a much better understanding of the client demographic and can only be better prepared going forward."
TRENVAL EXPERIENCE
The experience of working with Trenval to start the business was "tremendous."
"The board believed in us and in our vision. We're very passionate about golf and the opportunities it can provide for young people," said McLean.
"Trenval's investment in us is something we take great pride in and will deliver back in a major way. Thank you for providing us with an opportunity to fulfil our dream."
The investment committee was also excellent to deal with.
"I spent an hour or so in front of the board answering various questions through a Zoom call," he said. "I know a few of the members just through golf events and some community stuff, they were great to me."
COMMUNITY IMPACT
NINE Golf created 20 jobs in the community in its first season, including 10 full-time positions, and built partnerships with local schools.
"Now that schools are back open again, we're able to show many kids how great it is to play and be around golf," said McLean.
"Golf is an excellent exercise sport and a chance for kids to get out and be around one another again. They come and use the driving range, mini putt, practice area and the golf course."
School partnerships were something McLean said they intended on doing right away, however the pandemic put that on hold in the initial stages of the season.
CHALLENGES
Opening NINE Golf didn't come without its challenges, the biggest of which has undoubtedly been the pandemic, said McLean.
"We're very lucky in golf however, as it's one of the very few sports that can be played outside," he said. "In the past 18 months, golf is up over 35 per cent in North America, which is a great thing for the game overall."
Trying to familiarize a largely senior customer base with technology has also been a challenge for the e-commerce aspect of the business, said McLean.
ABOUT – TRENVAL
Trenval Business Development Corporation is Bay of Quinte's Community Futures Business Specialist, financing business start-ups, expansions or successions in the Quinte region for 34 years.
Do you have a business plan that you would like to bring to fruition? Contact Trenval at 613-961-7999 or visit trenval.ca.