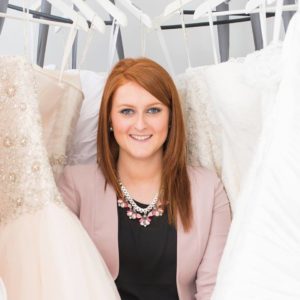 The striking designs, the attention to detail and the finishing touches captured on a fashion runway thread their way through every facet of Runway Bridal in Belleville. And that concern to deliver a full bodied customer experience is the only way Brooke Miller, owner of Runway Bridal, would have it.
Brooke purchased the business a year ago and loves being self-employed. "It's been a very positive experience, being young and having this responsibility – I find it very rewarding."
Runway Bridal, located at 397 Front Street in Belleville, is a one-stop shop for brides and grooms. Not only does Brooke stock the current trends, her variety pleases every taste, every budget and even every style of wedding from beachside to traditional.
She keeps a fantastic line of high quality tuxedos and mens wear, plus bridesmaids' gowns available in an array of colours, fabrics, lengths and styles.
Brooke has assembled a full collection of bridal accessories including veils, headpieces, jewelry, shoes, jackets, belts and broaches. From head to toe, for the entire wedding party, Runway Bridal ensures that every detail of the special day is perfect.
There is even an in-house florist that creates the most striking bouquets, corsages and centerpieces. Hair, invitations, wedding services can all be accessed through Runway Bridal's selected team of experienced professionals.
Brooke is a Loyalist College (Business Administration) and St. Lawrence College (Marketing) grad, but she had no prior experience in the bridal industry or in running her own business. So she looked to local resources for guidance and was directed to Trenval Business Development Corporation.
"Amber Darling, Trenval's Loans Officer, read my original business plan thoroughly, made suggestions and took a real interest in my business."
Amber worked with Brooke in several ways to ensure she would have the funding necessary to purchase the business. One of those funding sources was the Canadian Youth Business Foundation. As the CYBF's Community Partner, Trenval was able to process Brooke's application for a CYBF loan – a loan that
offers extremely attractive terms and conditions to young entrepreneurs like her.
In addition to the financing support, the CYBF Program also includes mentorship, a valuable resource for any business start-up. "Sue Chartrand is my mentor, and I have definitely benefitted from her supportive guidance", says Brooke.
Brooke Miller has created a boutique shopping experience in an elegant atmosphere. Her desire to 'wow' her clients is evident. "My greatest moments are when a bride emails me a thank you note saying that she truly had a great time at Runway Bridal."
If you have a business idea and need financial support, CYBF and Trenval may be able to help. Contact Amber Darling at 613- 961-7999 or email adarling@trenval.ca