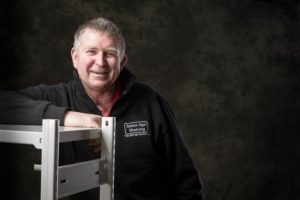 Getting organized is at the top of many New Years lists. People want their lives in order; they also want orderly homes, closets and garages. Fortunately, Belleville is home to a business that can help you.
In his pristinely organized basement, Ron Bouwers proudly displays all the possible options that are available to make the most of any space, large or small. His business, Space Age Shelving, can provide numerous designs for closets, kitchens cabinets and garage organizers.
Bouwers, owner of Space Age Shelving (Quinte) Ltd. since 2005, bought the business not long after relocating his family from the Niagara region, where he had
owned and operated a 66 acre apple orchard.
Ron operates his business from his home at 300 Farnham Road, Belleville. "We offer our customers full shop-at-home consulting service," said Ron.
Along with two additional full-time staff, Ron works full days installing organization solutions to hospitals, emergency services, schools and banks.
Working with local building contractors, he provides and installs custom closets in new and existing homes to suit specific needs.
In 2006, Ron expanded his enterprise by purchasing Closet Creations in Kingston, enabling him to expand beyond Belleville to Cobourg, Trenton, Prince Edward County, Gananoque and Perth.
Contributing to Ron's success is Trenval Business Development Corporation. "Trenval helped me to realize my entrepreneurial potential", he says.
"Trenval provided training and sound business counselling when I was starting and expanding my business. The staff was always available to help with business
planning, marketing plans, cash flow projections, management, and accounting procedures."
Ron secured a small business loan at a fair interest rate from Trenval, something that is not always available at conventional banks.
"Trenval is a valuable service because they believe in possibilities," said Ron.
Space Age Shelving is a great example of a local business with a community conscience. In 2009 and 2010, Ron partnered with local builders to donate time and materials to support the Quinte Home Build for Health Care project, a Belleville General Hospital Foundation's fundraiser.
Space Age Shelving is a success story for Ron Bouwers. He is proof that dreams of owning your own business are possible if you are willing to work hard.