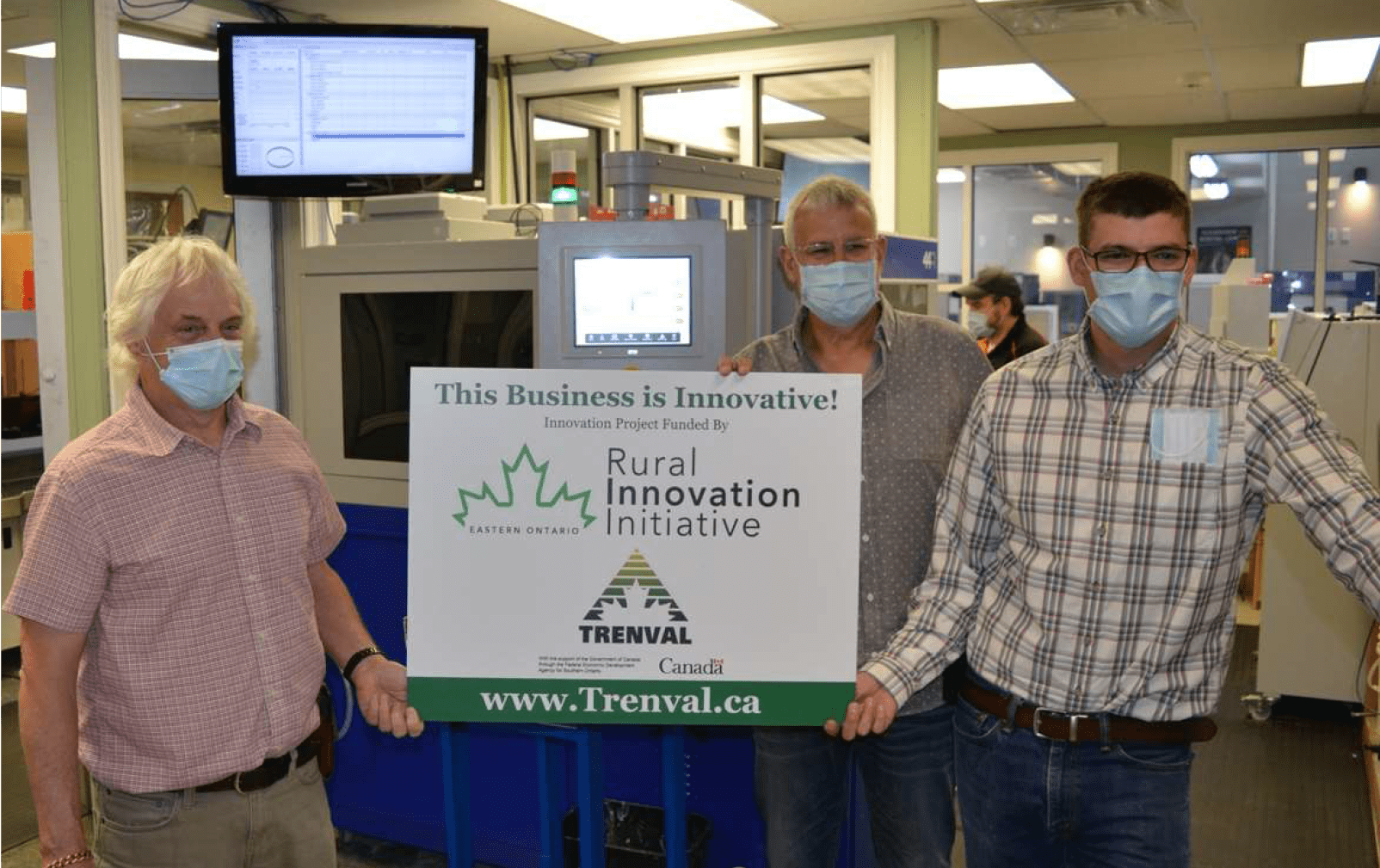 Harry Todd of Trenval (left) presents Tom Aquino (centre) and Kyle Aquino (right) with RIIEO award
This year's Rural Innovations initiative of Eastern Ontario (RIIEO) Grant was awarded today to Drs Choice Optical Lab for continued investment in industry 4.0 upgrades to their optical lens coating facility.  This grant was in recognition of the important role of Drs. Choice Optical in the Quinte Area and its dedication to continuous innovation.
Since his first day in the optical business Tom Aquino has always strived to produce the best lenses for his customers.  In this pursuit he has always recognised that innovation in his field was essential to staying ahead of the competition.  His pursuit of excellence in his field has caught the eye of TRENVAL who support local businesses in many ways through Federal and Provincial Innovation Grants.  Recently Trenval awarded this Quinte West company with a $70000 grant towards installation of new state-of-the-art A.I controlled coating equipment.
Drs. Choice Optical Lab has been a significant provider of Optical Lenses to Optometrists and Opticians in the Quinte Area and throughout Ontario.  They are among of handful of independent Optical Labs and they punch well above their weight in terms of lens quality and services provided to their customers. In a fiercely competitive market they shine as a testament to the fact that small business in Quinte can hold their own and compete successfully at the local and national levels.
Much of Drs. Choice's success stems from their pursuit of cutting-edge technology in their machinery as well as their computer aided design and industry best practices.  The potential of this company was recently highlighted in a study by the DeGroote School of Business where it was identified that the company has enormous growth potential but has been constrained by significant bottlenecks in their coating facility.
The TRENVAL grant has moved Drs Choice Optical one step closer to realizing their full potential by speeding up their coating process and improving the overall quality of their lenses.  Also, this grant allowed Drs. Choice to upgrade their computer system to use predictive analytics to reduce potential production delays.
This new opportunity will create significant growth for the business creating high-tech jobs locally and keeping more talent in the Quinte Area.  With the help of TRENVAL'S grant Drs. Choice looks to triple their business over the next two years bringing better jobs and attracting industry partners to the Quinte Area.
******************************************************************************
Contact Tom Aquino for more details
Cell: 613 849-0910
Email: tom@drschoiceoptical.com