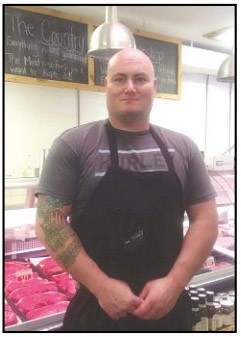 The Country Butcher Shop is not named 'country' because of a remote rural location – it's only a few minutes north of the 401 on Hwy 62. Its name came from the values its owner Doug Goodfellow is committed to carrying on. He wanted a good old-fashioned service where the butcher knew his customers, their preferred cuts of meat, and stood behind the quality of the products sold. He wanted a personal experience where he could offer marinating tips or BBQ secrets to ensure his customers would make the most out of their purchase. He's achieved it.
Doug has had time to envision his dream storefront. He's started working in a butcher shop over 30 years ago, when he began his apprenticeship with skilled professionals who passed down their knife and cutting techniques.
"Butchering is a process that takes years to master" Doug relays. Experience and skill are required to ensure the right cuts. While Doug has full time and part time staff, they only work to their level of training whether that's deboning, cutting meat for kabobs etc.
Over the decades, Doug has worked with live animals straight through to the final butchering so he knows what to look for and which suppliers and farmers to trust. It's important to his customers to know where their meat is coming from and Doug only selects Canadian sources.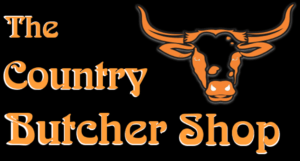 An extensive variety of beef, chicken, pork, lamb, sausages, kabobs and more fill his counter displays. There are fresh meats mixed with marinated and spiced offerings ready for the BBQ, pan or oven. His customers rave about his secret sauces. Doug has been busy serving new and repeat customers since he opened and attracting ever more people is his end goal.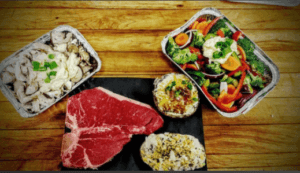 Stand up freezers are packed with beef and chicken pies, beef and turkey burgers, shrimp, wings, and sausages. His counters and shelves are filled with unique sauces and condiments. Buns, breads, pies and tarts plus potatoes and side dishes mean his customers can walk out with an entire meal ready to go.
It's Doug's 'all in' commitment to making the Country Butcher Shop a local landmark that moved Trenval Business Development to support his efforts. They believe in character lending and helping local entrepreneurs realize their dreams. "We invest in people. Small business makes this a great area to live in and we're excited to add Doug to our long list of clients" says Amber Darling, Executive director of Trenval.
The Board and Staff of Trenval congratulate Doug Goodfellow and are proud to have been a part of this success story!
About Trenval
Trenval Business Development Corporation is Bay of Quinte's Community Futures Business Specialist, financing business start-ups, expansions or successions in the Quinte region for 34 years. Trenval provides small business support by offering various small business loans to entrepreneurs to start, grow and thrive their business in our local communities.
Do you have a business plan that you would like to bring to fruition? Contact Trenval at 613-961-7999.