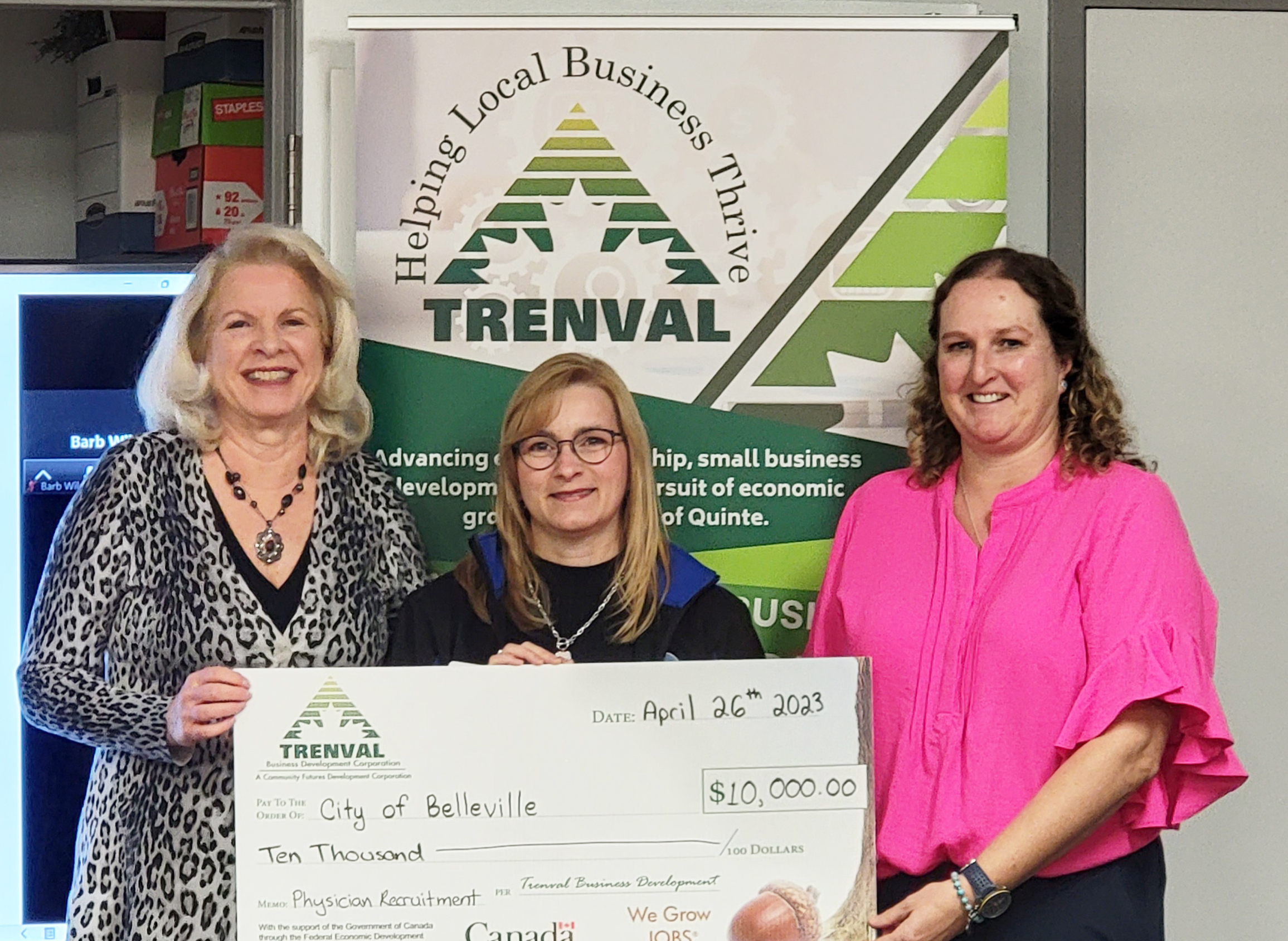 Pictured: Joanna March, Trenval Chair, Karen Poste, City of Belleville, Chandy Davis, Trenval Director
A cheque for $10,000 was presented to Karen Poste, Manager Physician Recruitment and Retention, City of Belleville, for assistance with the city's strategy to recruit doctors to the area.
The city will use the funds to increase their marketing materials for enticing potential doctors to the area.
In light of physician shortages across the country, the City of Belleville is ramping up their physician recruitment efforts. City Council has funded Ms. Poste's position and some additional funding to support their recruitment and retention activities. Marketing of an existing incentive program that provides students and new physicians with a $150,000 incentive, is the key to attracting new doctors.
This project involves the development of new marketing materials, attendance at Physician Career Fairs and the planning and execution of local activities to support the retention of existing physicians.
From a community development perspective, the ability of a community to provide access to primary health care is an essential tool to attract the labour required by local business. With an exceptionally low unemployment rate and local studies that show that labour availability is the number one concern for local business in every sector, it is essential that the City of Belleville remove as many obstacles as possible when it comes to attracting the workforce needed by local business. If a skilled worker is considering a move to Belleville, experience has shown that they are reluctant to come/stay if the City can't provide the primary healthcare they and their family require. Attracting more doctors will remove this barrier to labour attraction. Encouraging the retention of existing physicians and the attraction of new primary care doctors is the most effective way of ensuring the local workforce has the health care it needs.
In addition to helping attract and retain workers, the physician retention and attraction initiatives will help to ensure workers have fewer absences from work. Studies have shown that people that have access to primary health care experience fewer absences from work. Their health issues are diagnosed sooner and are less likely to develop into chronic, debilitating conditions that cause absences from work.
Each physician that is attracted to the City is essentially their own business. They set up an office, hire staff and equip their office – the economic benefit to the region of at least 6 new businesses is substantial.
Trenval has previously supported similar efforts in Quinte West through the Docs By the Bay.